Withstanding the Elements with Reliable Custom Cable
How Mercury Wire Is Advancing Scientific Research Around the World
The field of geology has made massive strides in recent years in gaining a deeper and more complex understanding of our planet. These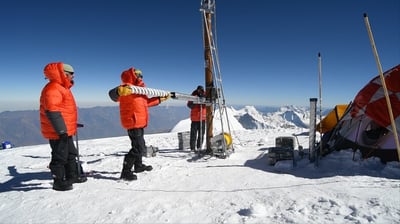 advances have led to an increase in expeditions into previously unexplorable areas, which means that the equipment for the field has had to evolve alongside it. (Photo credit: Vladimir Mikhalenko. The ice cores from Mount Huascarán could reveal new details about temperature changes in in the Andes Mountains and the adjacent Amazon basin since the last ice age.)
The team at Mercury Wire is excited to share how we've helped advance this field, and many others, through building reliable custom cable applications for difficult terrain. Read on to discover how we partner with companies to manufacture custom cable solutions, ultimately aiding with research goals in the harshest areas of the world.
Observing the Atmosphere from New Heights
In July of 2019, a team of geologists from Ohio State University began a project on Mount Huascarán in Peru. Considering the increased shrink rate of the glaciers, time was of the essence.
This project was aimed at gathering ice core samples from the glacier there, so geologists could study the effects of climate change on the levels of greenhouse-gas in the area, as well as the changes to the microbiology of the region. The cores, according to the team, might be a tremendous ally against serious environmental damage, giving us the information we need to combat it.
There was pushback from residents of the area who were concerned that the team was being used as a front for a foreign mining company. The researchers deny this claim, and, through negotiations with the protestors, managed to reach an accord and retrieve their samples to be studied.
The team worked at incredible altitudes, gathering samples with the help of precise, industry-leading equipment—including Mercury Wire cable! This equipment was able to bear the extreme cold without buckling or weakening, pull delicate samples from the ground without jarring, breaking, or otherwise disturbing them, and survived several weeks unattended, without damage, due to the protests.
It is through this high-performance equipment that we can understand glacial geology better than ever before.
Having the Right Cable for the Job
Working in extremes of nature, as in this case, requires you to consider your options long before the project even starts. You need to ensure you have the right materials for the job, and take several factors into consideration, including:
The exact temperatures you're dealing with
The weight of the equipment you intend to bring versus the weight that the platform, or glacier, can safely hold
The number of people involved in the project and how many are required to run your machinery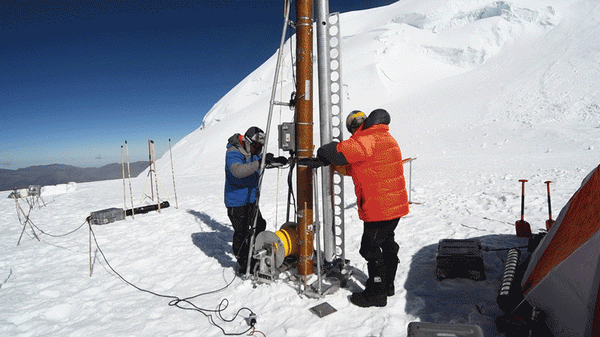 (Image credit: Vladimir Mikhalenko. Scientists drilled through glacial ice until they reached bedrock.)
There are, of course, many other specific considerations that take into account scientific testing conditions and parameters, and sample integrity. Once you've considered the environment, you need to choose the appropriate materials and construction techniques for the job. This means looking at:
The extrusion process
The gauge of the copper wire
Insulation and jacketing options
Shielding
Twisting and cabling
The appropriate level of water blocking
For more information, see our post about the details of choosing the right materials for your project.
At Mercury Wire, we're dedicated to ensuring that your team has the best possible equipment for the job so that your project goes as smoothly as possible. Want to see that in action?
Keeping Cool Under Pressure
Cryosphere is the go-to name in ice drilling equipment. With more than 45 years of experience in science and engineering in cold environments, they have deep understanding of the requirements needed for the complex drilling conditions of a delicate glacier complex. They offer three different rig setups that are appropriate for given variables, such as size, weight, and workload requirements and limitations.
Their medium series rig is good for work with electro-drills and borehole logging devices up to 5kW in power requirements. It's 5150mm tall when assembled for work and is powered by a 1kW brush motor that can pull 300kg at a rate of 0.3m/s. It has a cable capacity of 750m for 8mm cable.
Their light series rig is designed for electro-drills and borehole logging devices up to 3kW in power requirements. It's 3670mm when assembled for work and can be quickly set up and torn down in as little as an hour. Its cable capacity is 250m of 7mm cable.
Their ultralight series rig is designed for an electrothermal ice coring drill. It is, as the name implies, the lightest rig in the lineup at only 25kg when deployed. It's also the smallest, at 2050mm when assembled for work. Its cable capacity is 170m of 5mm cable.
It's worth noting that the light series rig was the rig of choice for the Ohio State University expedition, and has been used in serious geological sampling missions since 2016. These rigs, with the appropriate cable, make scientific exploration of these regions possible at all.
Cryosphere is a trusted partner of Mercury Wire. We're happy to provide their rigging equipment with cables perfectly suited to the individual needs of their clients, matching the cable strength, length, and size to the chosen rig and environment. By individually matching our cables to their rigs, we have been able to ensure the safety and efficiency of these endeavors.
Why Choose Mercury Wire
When you work with Mercury Wire, you're not just choosing the best possible equipment for your project—you're investing in a partnership that is excited to see your project succeed.
Choosing Mercury Wire means having access to a wide variety of resources. It means having top industry experts ready to help you overcome any obstacles that might arise and keep you informed about the latest industry information and trends.
When you choose Mercury Wire, you're choosing an ally. Contact us today to see how we can help make your project a reality.