Mercury Wire Leverages Lean Manufacturing to Increase Customer Satisfaction
A highly engaged workforce focused on continuous improvement adds value at every step
SPENCER, MA, March 20, 2018 /Mercury Wire/ — Unlike many traditional business models, Mercury Wire believes that adding value goes well beyond the typical transactional exchange of goods explains Robert Yard, President, Mercury Wire. "Adding value starts well before a product is made – our process begins with thoroughly understanding customer needs and then aligning our operations to meet their precise requirements. This means meeting application-specific parameters, but also includes adapting processes and activities to remove waste along the way."
Through the application of lean manufacturing best practices, Mercury Wire has created a highly engaged workforce that is focused on enhancing customer satisfaction at all levels. Employees at Mercury Wire actively collaborate on continuous improvement efforts to remove waste from both processes and activities to help ensure customers always receive the highest quality products at the best possible value.
According to Robert, the goal is to adapt processes by streamlining activities to ensure they are always adding value for customers. For example, walking fifty feet to retrieve components required to complete an assembly does not add value to the production of goods. Instead, the team identifies the activity as waste and relocates components to the station in which they are used. The time saved by moving the components increases the value added to customers by improving production efficiency, enhancing quality by minimizing the possibility team members retrieve incorrect components from the warehouse, and improve on-time-delivery by reducing cycle time. Now, multiply this example across all functions throughout the organization, from order entry to shipping, and the customer benefits add-up fast!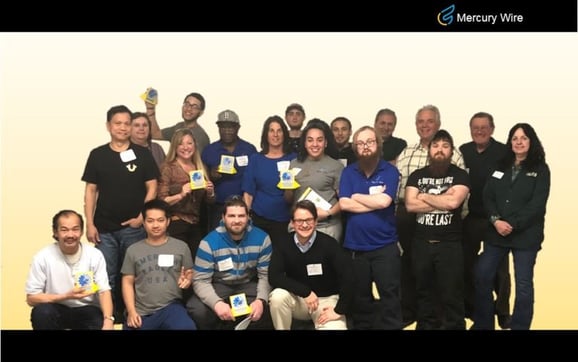 In supporting its continued commitment to a lean culture, Mercury Wire partners with the Massachusetts Manufacturing Extension Partnership (MassMEP) in delivering key workforce development training. MassMEP's training model combines classroom instruction, virtual simulation, and hands-on training to build job-ready skills. Additionally, team members are provided with work readiness skills that are critical to working within today's modern manufacturing industry.
Robert mentions that adopting lean manufacturing has provided Mercury Wire with a significant competitive advantage. "Embracing lean manufacturing and partnering with organizations such as MassMEP have allowed us to create a customer-centric culture where highly engaged team members apply continuous improvement efforts in constantly adding value – It's part of what makes Mercury Wire a smart choice."
About Mercury Wire
Mercury Wire designs and manufactures wire and cable solutions across a vast range of industries. With a rich history of innovation, application of lean manufacturing best practices, and a solutions-oriented culture, Mercury Wire consistently provides its customers with the highest quality custom wire and cable solutions at the best possible value. Mercury Wire's extended capabilities include design and prototyping, cable production, integrated assembly production, and delivery and inventory flow management. For more information, please visit www.mercurywire.com.
Media Contact Information:
Phone: 1+ 508-885-6363
Email: marketing@mercurywire.com
Website: www.mercurywire.com