How Custom Cable Traveled 850 Meters Under Water
Exploring the 78-Year-Old Wreck of the SS Maiden Creek with the Help of Mercury Wire
Exploring the wreckage of lost naval ships is a fascinating and environmentally challenging field of research. Understanding what went wrong and how these wrecks fair in their extended stays below the waves helps modern engineers and seafarers understand the dangers ships face and how to avoid, or prevent them, from harsh storms to catastrophic mechanical failures.
Mercury Wire is proud to support these efforts, as this year, they partnered with Eastern Search and Survey (ESS) to find the wreckage of a tragically stranded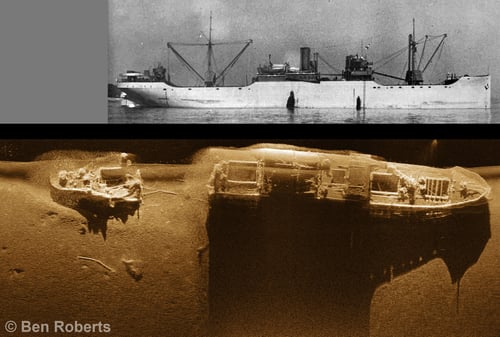 World War-era ship that Eastern Search and Survey has been aiming to map for the past 12 years.
Read on to discover how Mercury Wire's custom cable played a role in this amazing discovery, and how they can help you achieve your project goals as well.
A Brief History of the SS Maiden Creek
The SS Maiden Creek was a cargo ship built to Emergency Fleet Corporation designs in 1919. Often called "Hog Islanders" because of their construction location, these ships were built to address shortages in vessels during the first World War. It was a massive ship, at 390 feet long.
This particular vessel was a commercial freighter between the two wars and was requisitioned back into army use at the outbreak of the second World War.
Her Final Voyage
In December of 1942, the SS Maiden Creek set sail for New York from Halifax, Nova Scotia. In the final leg of the journey, the ship and fleet were caught in a massive storm that caused her to ice over and begin to take on water.
The crew was evacuated to lifeboats. Fifty-six men spent 73 hours riding the rough, freezing waters as they waited for rescue. When the SS Staghound, directed by a search plane, finally arrived to retrieve them, only 31 remained.
As for the SS Maiden Creek herself, she sunk slowly to the bottom of the Atlantic Ocean, tragically close to the coastline of the United States.
Eastern Search and Survey's Dedication to Discovery
Eastern Search and Survey, based out of Montauk, New York, has an ongoing mission to locate and make publicly available the locations of many vessels lost to time and the sea on the coast of the Northeastern United States. To date, they've located more than 350 wreck sites with their state-of-the-art sonar technology.
In May of this year, they were excited to announce the location of the SS Maiden Creek, 78 years after her chilling demise. They'd been looking for this particular site for 12 years, according to the announcement post on their Facebook page. It was only with the help of new technology that they were able to see the ship at last.
The Wreck Uncovered
In their post, the Eastern Search and Survey team shares more than 20 images of the ship, including never-before-seen footage of its wreck site. The ship is relatively well preserved, as far as they can tell, having sat essentially still for three-quarters of a century.
There's a serious break in the hull that separates the ship into two sections sitting 80 feet apart on the sea floor, and her masts have been presumably knocked down by trawlers. She rests upright and houses many fish and other ecological reclaimers. Other than that, she's in excellent condition, but sits too deep for divers to take a closer look at this time.
The Eastern Search and Survey Sonar System
The Eastern Search and Survey team's new sonar system is designed to produce clearer images at greater depths than ever before.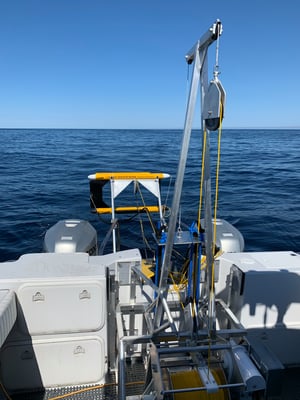 The new rig features a large compensator unit to balance the surface machinery and keep it firmly attached to the boat. The rig's winch was custom designed with a 3D model from the team based on hand-sketched designs to fit perfectly on the compensator unit, which was designed at the same time.
The diving units of the sonar equipment were updated to improve stability of movement. The towfish was redesigned to improve ballasting while in use, which meant clearer sonar readings were possible. A small weight was added to the depressor to help it withstand turbulent wake as it cruises slightly higher than the towfish.
With these improvements, the new system is slightly more difficult to deploy than older versions but can dive significantly deeper behind the towing vehicle.
How Mercury Wire Supported the Discovery
With a rig design that was complicated and complex to the needs of the project, Mercury Wire was excited to work with the team at Eastern Search and Survey to best meet the needs of their project equipment. Similar systems to the one designed previously only went about 200 meters below, so our team and the team at ESS were excited to reach a new achievement of 850 meters.
Mercury Wire's custom cable allowed for the smooth operation of the sonar equipment at previously unattainable depths, withstanding constant motion and varying environments as it lowered deeper into the depths of the Atlantic.
The cable used for this project was woven with water-blocking technology and braided for strength to endure extreme depths and tension from heavy equipment. These specifications were chosen by the ESS team and workshopped with Mercury Wire engineers to create the best possible finished product.
Why Mercury Wire
No matter what your project entails, Mercury Wire wants to help you achieve your goals. Our seasoned team of industry experts is ready to meet with you to find the best custom-cable option for your project and help you implement it as quickly and as easily as possible.
When you choose Mercury Wire, you're choosing an ally. Contact us today to see how we can help make your project a reality.